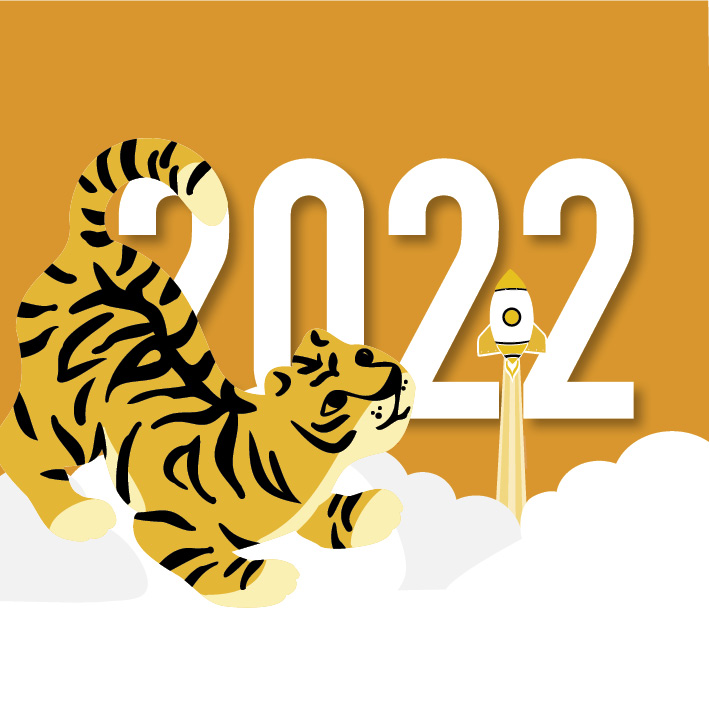 People born in the Year of the Tiger are said to be natural leaders, who walk and talk confidently and inspire respect. They are courageous and energetic, love a challenge or competition, work enthusiastically and are prepared to take risks.
This got me thinking that these Tiger traits are ideal for the would be entrepreneur; someone looking to gain the freedom and autonomy of running their own show. However, easy Tiger… starting a new business in 2022 comes with both opportunities and challenges.
What's new pusscat!
As you are no doubt aware, the COVID-19 pandemic has altered the landscape globally, how people work, interact socially and consume products and services. If you are thinking of starting a new business in 2022, it's vital that you take the 'new normal' into account, a business idea that was previously viable may need to be reconsidered. Focus on this 'new normal' and target how people live their lives now.
This isn't rocket science, but being pragmatic I would suggest that you choose a small business idea with low startup costs, it may be sensible to keep your current job as you develop the embryonic business. Home-based businesses tend to be the most budget friendly and manageable but not always suited to every business model.
Before letting the Tiger loose it's important that you question what it is that's driving this – what's your motivation? Is it making maximum profit while minimising your workload, or are you looking to pursue your passions, gaining a better work-life balance whilst earning enough money to live? Clarify this in your mind (and business plan) before entering the jungle.
Life is a tiger you have to grab by the tail, and if you don't know the nature of the beast it will eat you up.
STEPHEN KING
5 Tiger Cub Steps
1 Come Up With a Business Idea
Choose a business idea that you are knowledgeable and passionate about. Solve a problem you have identified and try to bring a fresh perspective that helps you gain that competitive edge over your competitors.
2 Conduct Market Research
First of all determine if there is a demand for the product or service you want to provide. What's the market size and who are your competitors. Gain insights by speaking with consumers directly and conducting surveys.
3 Write your Business Plan
Describe every aspect of your business in words and figures. Include things like a brief summary of your services, your marketing strategy, a financial plan, a SWOT analysis (Strengths, Weaknesses, Opportunities, and Threats).
4 Get the Legal aspects right
Choose a business name and register your business. Check your domain name and business name aren't impinging on any registered trademarks or copyright issues. Are any licences required?
5 Develop a brand identity
Work with a professional designer to create an appropriate identity, that represents your business and communicates to the right audience.
Some Start-up Suggestions:
Online Bookkeeping
Modern technology offers an ideal platform for a bookkeeper or accountant to run their own online service.
Online Teaching
The 'new normal' has created a demand for online education and opened the door for would be entrepreneurs. Focus on a subject you are knowledgeable about to teach a course to a global audience. Ideal for home workers.
Consulting and Coaching
Turn your knowledge and experience into a lucrative online business. Areas like business growth, social media, marketing, leadership and personal development are ideal subjects.
Professional Organising
As a professional organiser you can tap into the new popular trend of minimisation, offering systems and strategies to help people downsize and declutter their home and lifestyle.
Online Reselling
Those passionate about fashion and clothing may consider starting an online reseller business. You could start small by using online store websites like Ebay, and sell your own once loved items before expanding to your own full resale website.
Cleaning Service
Turn your love of cleaning into a business, offering services to homeowners, rented and commercial properties. Cleaning services require relatively little investment; a few staff members, cleaning supplies, transportation and a website. Marketing can be done through social media but you still need to differentiate yourself from other service providers, look to your competitors and fill the gaps.
Owning a Food Van
The impact of the pandemic has hit the indoor dining trade very hard. However, passionate cooks and aspiring restaurateurs might find more success taking their favourite foods on the road with a mobile food van.
Digital Marketing
Digital marketing services are always in demand, but now more than ever companies need to reach out to the online community and digitally market their brand. If you enjoy strategising and implementing marketing plans, have experience of SEO, content marketing, pay-per-click advertising and social media management, you could seize an ideal business opportunity with the freedom to work from your home.
Freelance Copywriting or Content Writing
If you are a passionate wordsmith with some marketing knowledge then freelance copywriting may be for you. Whether you write blogs, press releases or web content, good copy is always in demand. Ideal for home working, all you need is an internet connection.
Freelance Graphic design
I'm not sure if I should be encouraging more sector competition but if you work for a Design agency but seek the autonomy of your own business and a better work-life balance, going it alone may be very attractive. You'll still need the skills and work discipline but the rewards can be high.
Taking the first step can feel a bit daunting, but don't fear, do your homework and launch your business. Unleash that Tiger!
Unless you enter the tiger's lair, you cannot get hold of the tiger's cubs
SUN TZU
The cat's out of the bag…
I have to confess, I'm not a Tiger, I was born in the Year of the Rabbit (not so cool I know – I wanted to be a dragon!). However, people born in the Year of the Rabbit are said to be kind and virtuous. They are artistic and have good taste. They do not like to argue, preferring peace and quiet. Rabbits are compassionate listeners, excellent negotiators and always work well with people. That sounds OK on my CV.
Every start up company needs to be armed with the best marketing tools: the right branding, promotional material and a strong digital presence. If my skill sets, experience and my Rabbit characteristics appeal to you, get in touch and together we'll get your business off the ground.
Rabbit Years: 1903, 1915, 1927, 1939, 1951, 1963, 1975, 1987, 1999, 2011, 2023